Meet Our Donors
We thank all our planned-gift donors for their generous support. Here are some of their stories.
Joe and Eleonora Buba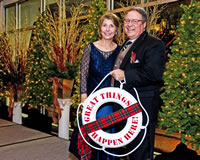 Joseph and Eleonora Buba have long been advocates and supporters of Edinboro University. They believe that engineering and technology programs of today will help create and define information technology and manufacturing job opportunities of the future. It is their hope that their philanthropic example will not only provide financial assistance to deserving students, but also encourage and motivate charitable responsibility in others.
Following successful careers in manufacturing and business, they decided to leave a legacy of leadership and commitment through an endowed scholarship for students pursuing an A.E.T. in Manufacturing Engineering Technology, a B.S. in Industrial Trade and Leadership, or a B.A. in Physics, and an irrevocable charitable gift supporting the Edinboro University in Meadville – The Joseph T. Buba Center.
---
Patricia and Patrick Santelli '62
I received an education degree from Edinboro, and I can still remember struggling to pay the $125 semester tuition with my 60 cent an hour job in the cafeteria.
I taught at Schenley High School and met Patti when she was student teaching at Schenley. We've celebrated more than 45 years together.
Later, I left teaching and joined Pfizer Inc. Over the course of both careers, I developed a passion for education and for reaching out to those less fortunate. I attribute many of my life successes to Edinboro University, and Patti and I want to make sure Edinboro keeps making Great Things Happen Here for students long after we are gone!
Patricia and Patrick have established an estate gift with Edinboro University to develop a diversity scholarship.
---
Bill and Mary Alexander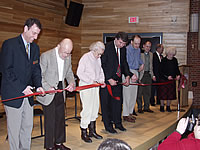 Music has been very important in our entire lives. If through a gift to the University my wife and I can impart appreciation of the beauty and wonder of music in current and future students, then this endowment will be worth it.
It was a big decision to fund the new music building and the concert series through a charitable remainder unitrust, but with our children grown, Mary and I felt it was time to give back to the University that has been such a big part of our lives. We sincerely hope it will be the impetus for growth and change.
During this fall as we stroll through our gardens I want to be sure that music and art at the University thrive like my stately 100 year old river willow.
---
Dennis Ranalli '74

"We did it!" That is how I feel about having the tennis program reinstated at Edinboro University! There were about seven tennis alumni who got together and through letter writing campaigns to other tennis alumni, raised $1.3 million in gifts of life insurance for the men's and women's tennis.
Tennis is back on the roster at Edinboro and that is important to me personally because I received so much from the tennis program at Edinboro. I received individualized attention and I experienced quality from a top –notch group of coaches in the program.
I cannot stress enough the connection I have with the University because I was an active participant in so many ways to keeping it strong and energetic into the future.
---
Deidre '89 and J. Jude Basile '76

I was born in a coal mining area of Pennsylvania with 5 brothers and sisters. I worked in the family bar and grill which served the area steel and coal workers that is where I learned about the value of hard work.
I owe Edinboro quite a bit. While I was there playing football I was given work study jobs, room and books. I was able to get through without loans. Deidre and I met when I returned for Homecoming and she was a senior at the Boro. I believe in the humanistic cause of law and my practice helps those who suffered serious personal/financial injuries or wrongful death.
I've received many honors and accolades throughout my law career and but no honor has been as great as giving back through an endowed football scholarship.